I have seen the rainbow cake images on google for some time and eyed them up as some serious cake loving fodder! I mean they just look totally amazing! So when it came to devising Burton's birthday cake for his 3rd birthday, I decided that now was the time to make a multi coloured layered rainbow cake! I know that the majority of the rainbow cakes use a white chocolate frosting, but there is no way Burton would eat that so I opted for milk chocolate frosting instead which still looked great.
I actually made two cakes in the end as I foolishly thought that one wouldn't be enough (I was wrong of course!) as there were going to be about 30 guests in total. The rainbow cakes were a little bit fiddly to make but the end result is so worth it when you hear the gasp as you cut into a seemingly 'run of the mill' chocolate celebration cake.
I based the recipe for the sponge from one featured on
More Than Toast
but my version has a lot less sugar as I figured that food colouring adds extra sweetness.
To Make The Rainbow Cake Sponge
2 teaspoons vanilla essence
355 ml milk, warmed for 30 sec in microwave to bring to room temp
Food colouring gels - I used the Dr Oetekar set which come in 3 colours red, yellow and blue which meant I had to make my extra
colours (see photo below) but if you can buy other coloured food gels then do so
Then You Need To
Preheat the oven to 180C /160 C degrees fan oven.
Oil and line how ever many 9" cake pans you have
Sift together the flour, baking powder and salt. Set aside.
Cream together the sugar and butter, until pale and creamy.
Add the egg whites a little at a time and then add the vanilla essence and mix until fully incorporated.
Then, alternating between the wet ingredients and the dry ones, add the milk and flour mixture in two parts.
Ok so now the fiddly part:
Divide the batter between 6 bowls - the 6 batter
quantities
must all weight the same to achieve the same size layers of sponge. Therefore, it is worth weighing your mixing bowl before you begin adding ingredients, and then subtract the weight of the bowl from the final measurement, once the batter is completed. Then you need to divide that number by 6 and add that weight of batter to each bowl leaving a little over for wastage.
Add at least half a tube of food colouring into each bowl - the brighter the
better really to make the sponge colours as vibrant as possible.
Remember
the colour of the batter pre cooked, will be the colour of the baked batter.
Pour into the cake tins and bake for about 15-20 minutes each
until cooked thoroughly
.
When cooked, allow to cool on a wire rack
Then make your Chocolate Frosting
Ok I have a confession here, I didn't make my own frosting for these cakes due to timings and all the other party food I had to make so I used Betty Crocker chocolate buttercream to sandwich the sponges together and Betty Crocker chocolate fudge frosting to cover the outer of the cake. (FYI: This product is also dairy free!)
Then simply decorate as you wish I used lots of chocolates which Burton requested, namely white and milk chocolate buttons, and
malteasers
Chocolate fingers and smarties
I think they looked pretty darn good even for my clumsy mumsy cake
decorating
And NONE of my the party guests were expecting to see the tecno-coloured cake inside either!
If you get the chance to make a rainbow cake I highly recommend doing so, the extra effort is well worth the end result
I LOVE CAKE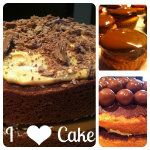 For this months I LOVE CAKE the theme is
SHOWSTOPPER / CELEBRATION CAKE

because I Love Cake is 1 year old today :)


So please link up any amazing cakes you have made in honour of a celebration, birthday, wedding etc...
As usual the linky will stay open until the end of the month - please link up any old or new recipes and grab the badge too :)
I am also linking this up to